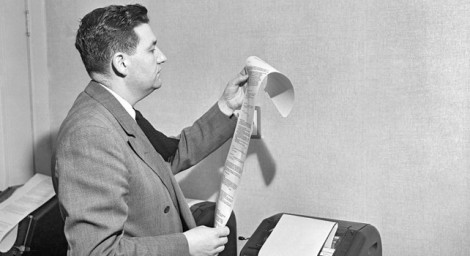 A very interesting piece just appeared on Fast Company digital edition, by Adam Bluestein.
He had an interview with dr. Stefan Sinclair, associate professor of digital humanities at McGill University's Department of Languages, Literatures and Cultures, in Montreal Canada.
The definition of "Digital Humanities" from professor Sinclair is focused on the use of technology for the research:
The core of digital humanities is the critical exploration of how computers and technology can enhance but also influence our modes of research in traditional humanities. My own work has been focused on facilitating the exploration and analysis of digital texts. Part of that is to provide tools to allow people fairly easily to ask questions about things like the frequency of terms or clusters of terms in a document or body of work, how those terms are distributed, and which terms and themes are most distinctive to individual documents in a larger body of work.
Digital Humanities research features good examples, as Stefan Sinclair says:
A good example of this might be research that "forecast" the Arab Spring revolutions using newspaper analysis, though I'd also have to recognize that the humanistic perspectives are a bit overwhelmed by the scientific methodologies. Other examples that navigate between humanistic and scientific perspectives and methodologies include using text analysis to study the onset of dementia in the works of Agatha Christie.
The professor is also involved in the developing of tools for digital humanities research:
Most of the software I'm involved in developing is open source, but with universities wanting to find opportunities for commercialization and spin-offs, I'm conscious of those possibilities–such as offering a subscription version of Bon Patron for businesses. I think that leads us to value what we're creating more and encourages a more entrepreneurial spirit in students as they see that knowledge in humanities can be worth something commercially.

Read the full interview on Fast Company:
http://www.fastcompany.com/1843980/big-data-and-the-english-department