Article by Lucia Ruggiero
A large display of digital visual animation has been installed in the hallway of a building of luxury apartments in Chicago. The installation combines 2D and 3D animations, which are spread across 15 screens, with the intention of adding a unique aspect to the building's modern architectural feel.

The creators of the digital animation, Animations Dynamic Inc., based in Portland, have been working with animation and interactivity since their launch in 1996, and have been key players in adding creative and unique twists to businesses. They add that they "play in the space where science meets storytelling". Other clients of theirs have included the Salvation Army and MoneyGram.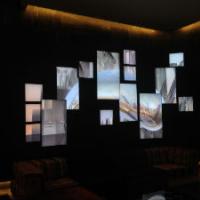 However, this more recent work of ADi sets them apart as capable of extraordinary 3D displays that catch the attention of passers by on the streets of Chicago. It also demonstrates to us the growing link between businesses and their ability to set themselves apart from competition, through use of digital art and design.
ADi website: http://animationdynamics.com
Video on Vimeo:

For more information: http://www.digitalsignageconnection.com/chicago-luxury-apartment-high-rise-goes-ultra-modern-digital-art-938
(Photos from Digital Signage Connection website and ADi website.)