Digital Cultural Heritage: European targets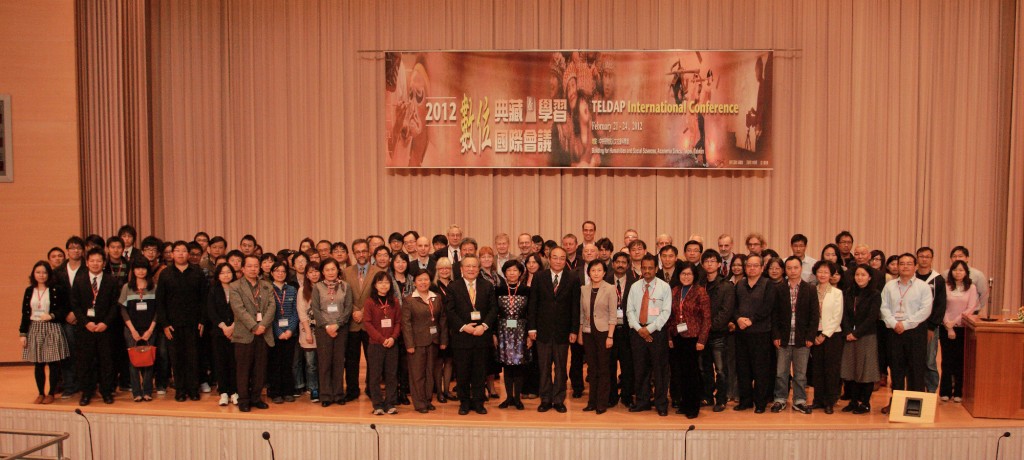 During the 2012 TELDAP International Conference, which took place on February 21-24, 2012 at Academia Sinica, Taipei, Taiwan, many important themes were commented and described by experts coming from all over the world.

The Conference, hosted by the International Collaboration and Promotion Division of Taiwan e-Learning & Digital Archives Program (TELDAP), provided an international forum for researchers in the Digital Archives and e-Learning communities to exchange their new ideas, latest research results and discussions for future development.

Topics covered in the 2012 conference included: the citizen cyberscience and archives, innovative applications - content, data, and tools, scientific data and biodiversity collections, digital preservation, geographic information system (GIS) and sustainability.

Further information about the Conference can be found here:

http://collab.teldap.tw/teldap2012/index.html

Concerning the Digital Cultural Heritage issue, which was one of the hot topics of the Conference, during the plenary meeting Dr. Antonella Fresa was lecturing about the European approach, explaining how European countries are planning to answer the challenge.

The european amount of digitised material is growing very rapidly, as National, regional and European programmes support the digitisation of the content of Museums, Libraries, Archives, Archaeological sites and Audiovisual repositories. The generation of digital cultural heritage is accelerated also by the impulse of Europeana that is fostering the European cultural institutions to produce even more digital content. Moreover digital cultural heritage content are complex and interlinked through many relations.

Therefore, the DCH sector highlights several very important needs:



high quality information technology management, to ensure trust, availability, reliability, long term safety of content, security, preservation and sustainability;


access facilities to the final users  -the researchers - who will search into the DCH e-Infrastructure for their research; and to the cultural institutions that will deliver their data to the DCH e-Infrastructure;


interoperation among existing cultural heritage repositories and of cultural heritage data with research data.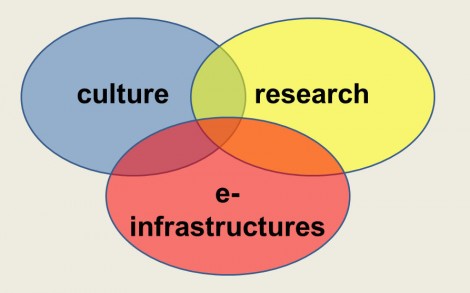 But what DCH sector actually needs is not a "new infrastructure", but it is instead a "new approach", based on national and regional systems, to enhance the value of existing resources through INTEROPERABILITY.



In the last 10 year, European Member States run a wide range of activities:



Building a shared platform of recommendations and guidelines


Agreement on common data models


Experimenting and launching innovative online services


E-infrastructures for the citizens


E-infrastructures for the research


International cooperation: in Europe and abroad


Digitisation within national and regional programmes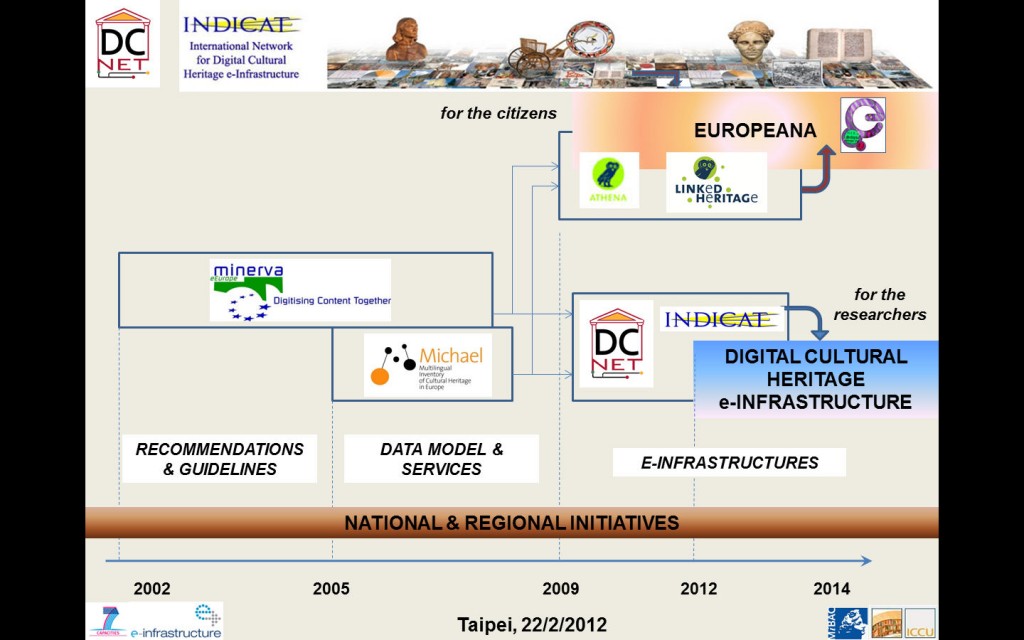 Right now, there are two integrated projects running together:


DC-NET: joint activities plan for DCH e-infrastructure implementation


INDICATE: international cooperation, use case studies, pilots, policy harmonisation



DC-NET ERA-NET aims to establish a network for the European Research Area.

This project is composed by Programme Owners and Programme Managers in the cultural sector, and it has the aim to agree common perspectives and priorities across EU Member States, to establish an operative dialogue between cultural heritage and e-Infrastructures communities in Europe and to identify constraints and capabilities in order to establish a plan of joint activities.

On the other hand, INDICATE represents a concrete approach within an international dimension, stimulating the international cooperation of e-Infrastructures providers and cultural heritage users.

Target areas of cooperation is Mediterranean region (Egypt, Turkey and Jordan) besides a cooperation with China and also exchanges with South America.

DC-NET started in December 2009, and will last until March 2012, whereas INDICATE started in September 2010 and will last until September 2012. Both projects are funded by EC FP7 e-Infrastructures

The two projects share the same coordinator and have many partners in common; and the e-infrastructure programmes identified in DC-NET will be at the basis of the sustainability of the results of INDICATE.

Indeed the two projects represent the same DCH community and are part of a wider process, which started 10 years ago among cultural institutions.

This process entered in a new phase joining the research e-infrastructures, with final aim to go towards an Open Science Infrastructure for Digital Cultural Heritage, which can be planned for 2020.



Factual cooperation is established with strategic bodies as:

–      e-IRG  e-Infrastructure Reflection Group

–      ESFRI  European Strategy Forum on Research Infrastructures (SSH thematic working group)

–      EGI European Grid Initiative

–      TERENA Trans-European Research and Networking Association

–      MSEG Member States Expert Group on digitisation

–      ASREN – Arab States Research and Education Network

 

Research workflow and Service priorities

Priorities for the Digital Cultural Heritage sector have been put together, having in mind the typical workflow of the DCH research: from gaining access to information, trough processing them and publishing results which will be discussed and annotated, to the long-term preservation of the resulting content in a secure way.

This "customer-based" approach highlighted the most immediately important demands that DCH sector has to reply to; therefore it is possible to list the priority services:



Long-term preservation


Persistent identifiers


Interoperability and Aggregation


Advanced search


Data resource set-up


User authentication and access control


IPR and digital rights management



Through constant dialogue, the common issues of the three sectors will bring to common priorities as:  Interoperation of systems, Aggregation of content, Cross-search, Semantic search, Persistent identification of digital objects, Simplification of set-up services, Stable platform, Scalability.

Cooperation and coordination among culture, research and e-infrastructures is indeed at the core of the DCH e-infrastructure.



Linked Document:





A data infrastructure for digital cultural heritage: characteristics, requirements and priority services (PDF, 746 Kb)