Digisam is a coordinating secretariat that was established by Swedish government with the main task of promoting the achievement of the objectives of the national strategy for digitisation.
Digitisation, digital preservation and digital access to cultural heritage represent the main issues that Digisam is committed to. General guidelines, proposals for responsibility and how an integrated digital information management and a coordinated and cost-effective preservation should be designed are also key issues for Digisam to handle.
The English version of the Digisam blog has been published recently: it is an abbreviation of the Swedish version and it features some of most interesting posts which are relevant for the international audience.
The current work of Digisam is an inventory and updating of the existing recommendations on digitisation, regarding the planning of digitisation projects, digitisation processes, standards, formats, equipment, and much more.
The FAQ section of the blog is composed of 4 thematic areas: manage, produce, use and preserve; the blog already contains several interesting articles reporting news and information as well as witness of the work done so far.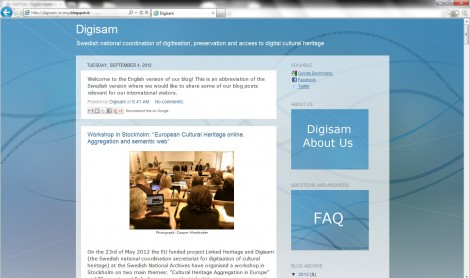 Of course, the matter of digital preservation is a very delicate and important one among the others.
The Swedish national strategy for digitisation was based on an enlarged approach that involved departments and agencies which work in the fields of digital access and digital preservation. In their responses there was an overall agreement on the necessity of a coordinated solution for long-term digital preservation for the cultural heritage sector. In Swedish archival context, there is no upper time limit for the public documents that the public administration shall keep, which means that the freedom of information legislation is not time limited. Much of the problem is that software and hardware only have a lifespan of a few years because of the fast development of technology. So there is a constant need to migrate the digital information to ensure that it can be preserved for the future.
The Digisam blog is intended as an interactive meeting point where the visitor are invited to participate and provide their experience to the discussion. The plan is to gradually build up an extensive "virtual guide" for the digitisation work.
The Digisam blog: http://digisam.se/index.php/en/