The DI4R 2016 will be held in Kraków on 28-30 September 2016. The conference will be hosted by ACC Cyfronet AGH and will be the first user forum jointly organised by Europe's leading e-infrastructures and projects: EGI, EUDAT, GÉANT, OpenAIRE and RDA Europe.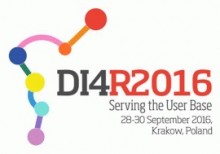 David Foster, Chair of the Programme Committee, explains his vision for the conference: "As PC chair I would like to see user communities really staring to view this as an opportunity to voice their needs and problems and be able to openly discuss with other users and service providers. It is really true that large scale commodity computing is changing the way we view the provision of services and creating new opportunities for both niche and big providers. Above all, new services must be sustainable and cost effective and we need to be creative to ensure that is the case."
The four conference tracks are:
Challenges facing users and service providers
Services enabling research
A changing environment, changing research
Working with data
Keynote speakers:
Wednesday, 28 September: Karlheinz Meier, Professor of Experimental Physics, Department of Physics and Astronomy, Heidelberg University with the speech: "The brain, the universe and the need for integrated infrastructures".
Friday, 30 September: Laurie Goodman, Editor-in-Chief of the international open-access open-data journal GigaScience with the speech: "Data Citation: Credit Where Credit is Due"
The programme is available in the conference page: http://www.digitalinfrastructures.eu/programme

The goal of the organisers was to develop an engaging programme to foster new collaborations, promote innovation and strengthen a wider understanding of e-infrastructures within the research community. For the e-infrastructure and resource providers, the conference will be a chance to work together towards the integrated services and roadmaps that are needed to better serve the user base.
The DI4R will host co-located events such as, on 27 September:
3rd WISE Workshop – Wise Information Security for collaborating E-infrastructures
Workshop: Design your e-Infrastructure
More information and registration at http://www.digitalinfrastructures.eu/