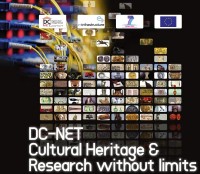 DC-NET is an ERANET project dedicated to enabling users to benefit from content, with the support of the e-Infrastructures community. To achieve this, it brings together users, content providers and e-Infrastructures communities to share perspectives, experience and requirements, leading to the definition of a joint research action plan which delivers new services for the future.
The target audience for DC-NET is made up of two groups – content providers and content consumers.
Content providers

are organisations that provide cultural materials online (museums, galleries, etc.). They are the organisations that hold the content.

Content consumers

are those who consume these materials for research. They typically include museum and gallery staff (so that memory institutions may be both content providers and content consumers), but additionally academic researchers and others. Content consumers are also referred to as "end users".
The content in the DC-NET context is the digitised cultural heritage material which is held by memory institutions (content providers) across Europe. This includes the digital holdings of libraries, museums and archives, as well as the digital representations of historic landscapes, buildings and towns (text, images, video, sound, 3d). The content can also include data resulting from the scientific investigation of cultural objects (such as chemical analysis of paintings and sculptures for restoration, physical characterisation of the materials, geological inspections, etc.).
There are very large amounts of this material already available in digital form, and much more is being continuously generated.
The DC-NET project is largely concerned with identifying new services for content consumers and exploring how content providers can use e-Infrastructures to help them to offer such new services.
The scope of these services include:
(a) the "content resources" or data bases where the content is stored and accessed;
(b) the content itself;
(c) the communities of end users who access, but also annotate and enrich, the content.
This categorization of the service context among users (the content consumers), content providers and e-Infrastructure providers as support for the implementation of the services is at the basis of the service priorities identified by the partners of DC-NET.
For further information: