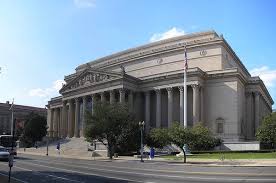 This 7 and 8th October ​ ​ ​the ​U.S. ​National ​Archives ​in ​Washington  ​will ​be ​hosting ​the CyArk 500 ​annual ​summit. CyArk selected the National Archives Building to host the 2014 Annual summit because of the shared interest in preserving and making available important historical records.
The ​ theme ​for ​this ​year's ​conference ​is ​"Democratising ​cultural ​ heritage: ​Enabling ​access ​to ​information, ​technology ​and ​ support." ​ ​
The 2014 ​Summit ​will ​include ​an ​update ​on ​the ​progress ​towards ​ the ​CyArk ​500 ​Challenge ​to ​digitally ​preserve ​500 ​heritage ​ sites ​in ​five ​years, ​as ​well ​as ​presentations ​from ​thought ​ leaders ​on ​democratising ​cultural heritage. ​
CyArk's Annual Summit brings government ministers, corporate executives, diplomats, scholars and heritage professionals together to learn about the ways new technologies are benefiting and augmenting heritage preservation.​ ​ ​

As part of the CyArk 500 Challenge, the CyArk 500 Annual Summit brings together cultural heritage, technology and philanthropy leaders from around the world to share experiences and best methods for capturing, disseminating and archiving information about heritage sites, particularly those at risk.
This year's event is the second CyArk's Annual Conference; the first was in October of 2013, when CyArk launched the CyArk 500 Challenge to a sold out audience at the Tower of London. Since the launch, CyArk has been working with the 500 Advisory Council to evaluate nominated sites based on the criteria of Risk, Significance and Benefits from Technology.
The 2013's event featured attendees from over 30 countries, with speakers from the Google Cultural Institute, ICOMOS, Autodesk, The Scottish Government and the Historic Royal Palaces and also for this year is expected a great success and a large participation.
Watch the 2013 conference sessions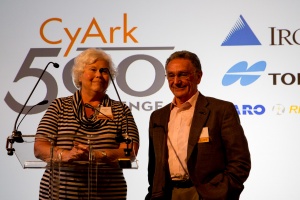 The conference's speakers will be: Matthew Cock of the British Museum that will be speaking on digital initiatives at the British Museum to share heritage virtually with the public; Roger Capriotti, Senior Director of Product Marketing of Microsoft, speaking about the importance of developing with web standards to share heritage on the modern web; Carlos Bayod Lucini, Architect & Head of Laser Scanning at Factum Arte, who will speak on controlling the means of re-production (from designing the unique tools to capture the original physical state to re-materialising the object as a facsimile); Robert Vogel is the superintendent of the National Mall & Memorial Parks and he will be speaking on leveraging public and private partnerships to digitally preserve the National Mall. There will be also William Marbell, the capture Manager for Trimble Export Limited, that will discuss Trimble's support of CyArk's work in West Africa and the Americas through a groundbreaking digital preservation programme, The Atlantic Slave Trade.
Click here to see the 2014 event's schedule. http://archive.cyark.org/500/schedule.php
CyArk 500 Annual Summit 2014
Tuesday, October 07, 2014 – Wednesday, October 08, 2014
National Archives Building
700 Pennsylvania Ave NW
Washington, District of Columbia 20408
United States
For more information visit the event's web site http://archive.cyark.org/500/index.php