The Corpus of Florentine Painting is a project of the years 1920s by Richard Offner, Art Historian at New York University, which aimed at deploying a systematic study of Florentine painting from its beginning to the Reinassance, cataloguing the works and the life of many bigger or smaller painters who were active in the period. the orginal plan included the realization and publication of 30 volumes in 6 sections to catalogue all the Florentine paintings organized by author and fully analysed.
The first volume dedicated to Bernardo Daddi, was published in 1930, just after Offner moved to the Istitute of Fine Arts in New York University, which initially supported (both from the organization and financial point of view) the ouvre. Until his death in 1965, the researcher published 11 volumes dedicated to the protagonists of a trend, different from Giotto's, that he called "Miniaturist Tendency"; and to the brothers di Cione: Andrea, Nardo and Jacopo. other 3 volumes appeared later thanks to Offner's assistant Klara Steinweg, who died in 1972.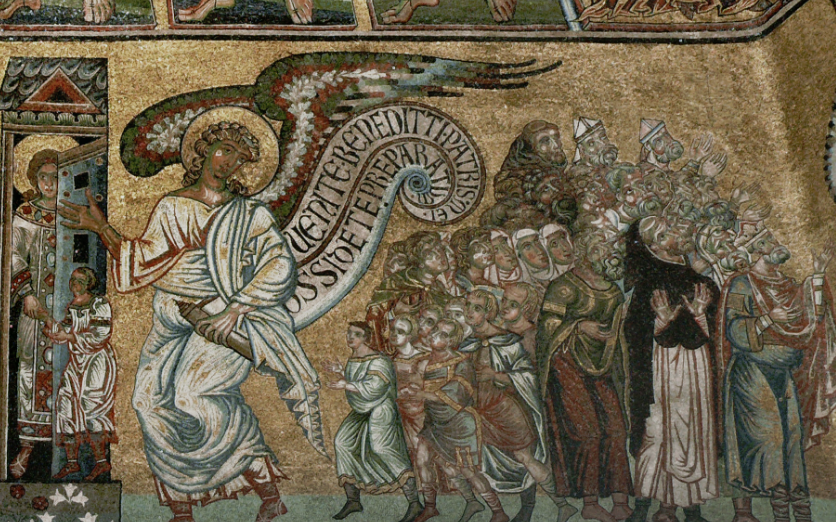 In 1976, in order not to lose Offner's work, the New York University, gave to the Kunsthistorisches Institut of Florence the use of all the materials and since then and until his death in 2011, the reseracher Miklós Boskovits curated the publication of 13 other volumes touching, among others, the topics of Florentine painting origins in XII century and of the mosaics of Battistero and San Miniato Church in Florence.
With the aim to guarantee the prosecution of the project and to modernize it according to the needs and trends of current historic and artistic research, in 2010 the Association "Corpus of Florentine Painting" was established, and since 2015 it is chaired by Andrea De Marchi, professor of Medieval Art History at the department of History, Archaeology, Geography, Art and Performance (in short SAGAS) of the University of Florence.
In almost a century of research, the Corpus formed a photographic archive, highly specialized in Tuscan painting from 1100 to 1400, composed of ca. 70.000 negatives and positives.
In 2013 Sonia Chiodo, reseracher of Medieval Art History at SAGAS, initiated a project of digitization and cataloguing of the collection of positives, that is partly already accessible upon registration at www.corpuspitturafiorentina.it. An agreement between the Association Corpus and SAGAS will also allow to examine in the same digital archive the photographic funds of other important art historian such as Knut Berg, Mirella Levi D'Ancona, Alessandro Marabottini, Alessandro Parronchi, Mario Salmi, Carlo Del Bravo and Maria Grazia Ciardi Duprè.
Currently, photographs related to  Florentine paintings in XIII and XIV centuries and to Romanic Illumination have been digitized; the Corpus project is therefore approaching its phase 3.0 prosecuting the activities of research, preservation and dissemination of an important part of Italian cultural heritage.