Discover the detailed programme of CAPS2014, the first international event on Collective Awareness Platforms for Sustainability and Social Innovation, organised under the aegis of the European Commission in Brussels on next July 1-2.
Ignite talks, hands-on sessions for makers, roundtables, demos: register for this unique event!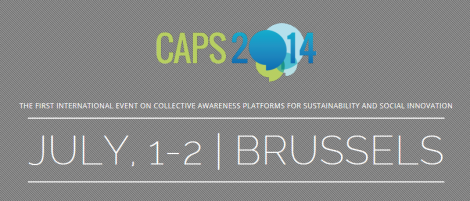 On July 1, the CAPS2014 OFF part of the event, held at The Egg, will alternate hands-on sessions with roundtables and will be closed by a BarCamp where attendees can present their CAPS related ideas and activities.
On July 2, the CAPS2014 Conference part, held at the European Commission, will be formally opened by Mr. Robert Madelin, DG of European Commission's DG Connect. It will provide participants with an overview of current projects and initiatives, and includes an information session on the upcoming CAPS Call under Horizon 2020.
The event website will give you full details on the agenda of the two days and allows you to register. Access to the event is free of charge but registration is compulsory.
Why CAPS are so important:
CAPS can be described as non-commercial, open Internet platforms, connecting citizens to each other (and to the "Internet of Things" whenever necessary) and providing them with a more effective way to:
Spontaneously adopt more sustainable behaviours and lifestyles, based on better information (extended awareness);
Contribute to a low-carbon economy, for instance by lending, exchanging and reusing goods at scale, across geographic boundaries (collaborative consumption);
Get facts/evidence from citizens for better decision making, at personal or institutional levels (e.g. crowdmapping);
Develop alternative collaborative approaches to problem solving (crowdsourcing, crowdfunding, participatory design, collective intelligence, collective decisions);
Actively engage, innovate and act, individually or collectively, towards societally, environmentally and economically sustainable approaches and solutions to tackle societal challenges: growth and employment, environment, climate change, health and education, inclusive societies, wellbeing, etc.