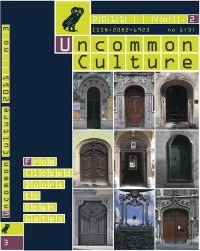 Uncommon Culture is a journal born from an idea of Maria Śliwińska,  the director of ICIMSS, and its publication, on-line and in print, has been realised within the ATHENA Project Consortium.  "Uncommon Culture is a peer-reviewed journal providing unique perspectives on a rich variety of cultural activities in Europe. Examining cultural institutions and their collections, this magazine gives new insight into diverse cultural activities", writes M. Śliwińska in the introduction at the first issue. At present the first two magazines (corresponding to the first complete issue) are published. The first magazine's title refers to the Europeana slogan, Think Culture, and it is a general introduction to the kinds of cultural topics that will be treated in this journal. The second magazine is entitled Open Gates Instead of Closed Doors and examines culture in reference to rapid technology change. Next issue will be devoted to Collections Development and will examine how traditional collections are becoming digitalised and organised in innovative and dynamic ways.  Uncommon Culture tackles the issues connected with digitalisation of cultural heritage in Europe from a broad prospective, including both a scientific attention to the technical matters and a humanistic sensibleness for the value of cultural differences and their preservation in the contest of the risks and of opportunities that globalization implies. This fundamental approach is clear since the first article of the first number, Culture in a globalized society, a selection of the work of Ryszard Kapuściński.  In the first number the other main articles and the interviews are focused on the most important European projects on Cultural Heritage and on their key-people.
Skimming through the reviews, or browsing in the online versions, what we note is the large range of contributes coming from different European countries, giving an exiting impression of real multiculturalism not only in the contents but also in the editorial process.  Most of articles, in particular in the large section "short articles",  are written by partners of ATHENA project and from invited guests from country outside the ATHENA network.
The second issue, compared to the first, seems to be more focused on content. There are still contributions from many different countries like in the firs number, but the articles are mainly dedicated to librarian heritage and digitalisation.
We think this is a high level editorial product, both for the richness and the quality of the contributions, and for its graphic aspect.
For further information: