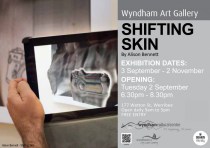 At Deakin University will be present the work of artist Alison Bennett in the exhibition Shifting Skin, opening soon in Werribee. This will be the last chance to see Shifting Skin, a series of works featuring 3D augmented reality over gorgeous photographic prints of human skin marked by tattoos.
Alison Bennett's exhibition Shifting Skin, was organised by and shown at Deakin University Art Gallery, Melbourne Campus at Burwood in 2013; generating considerable international attention.

The official opening is Tuesday 2 September, 6.30 to 8.30pm. The exhibition will then be open daily from 9.00 am to 5.00pm, admission is free.
Shifting Skin is an elegant statement on the collapsing boundaries between material and virtual via the connecting metaphor of skin. The uncannily flattened images of human surface were captured using a re-purposed flatbed scanner held directly against the subject's body.
When viewed through an app on a mobile screen, a 3D topography appears to project out of the print, a landscape of peaks and valleys describing the tonal scale within the surface of the subject, the terrain of scars, tattoos, skin tone and texture.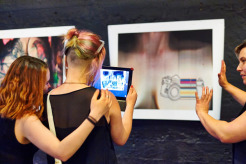 The works in the exhibition were made using a re-fashioned flatbed scanner in order to directly capture her subjects. Rather than her subjects being at a remove from the apparatus, they were literally touched by it, as the scanner was painstakingly rolled around their bodies to capture their image. The large scale resulting prints then had an added element of augmented reality, in which visitors could view Bennett's reconstituted flattened, unfolded scans as novel 3-dimensional entities to the gallery through the interface of a smartphone or tablet screen. Visitors to the exhibition downloaded a free app called Aurasma Lite onto their iPad, iPhone or android device to view the works.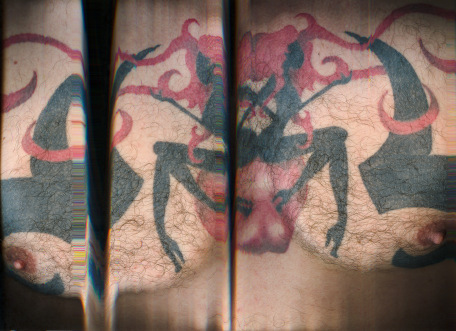 This work is framed by a question about the reconstitution of photographic surface within digital media. This direct interplay between the physical print and virtual object creates a tangible dynamic to be physically explored by the viewer. Although augmented reality is an internet application, the experience is locative and embodied. The viewer must be physically in front of the trigger image and move in an arc before the print to trace the contours of the 3D virtual object.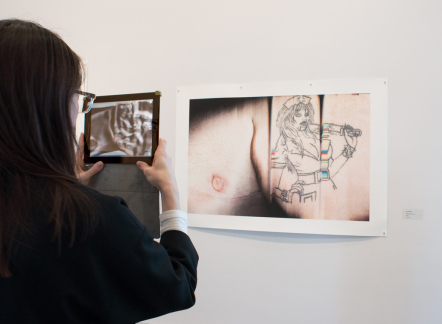 Bennett does not considerate the skin as only an interface for experiencing our physical surroundings, but also as providing a visceral connection to the virtual. The physical prints are extended through, but also constitutive of, the element of augmented reality. Rather than embracing a totalizing form of the virtual, she envisions a virtual that is reliant upon, and an extension of, personal subjectivity and individual realities.
More information at alisonbennett.net
2013 exhibition: https://www.youtube.com/watch?v=lSRodTqEfyQ