ASPIRE – A Study on the Prospects of the Internet for Research and Education
The ASPIRE foresight study has been exploring the implications of potential developments of the Internet up until 2020 and assessing their impact for the Research and Education networking community.
In May 2011, a consultative workshop was held to ascertain what the community considers to be the four topics that are most likely to have a significant impact on the sector.
The topics chosen as a result of the workshop were:
Middleware and Managing Data and Knowledge in a Data-rich World
Cloud Services
Adoption of Mobile Services
The Future Roles of NRENs
Four panels of experts were convened during the latter part of 2011, and worked until the spring of 2012, gathering material and reaching a consensus on the major issues.
The conclusions and recommendations from each of the panels will be discussed in a second ASPIRE workshop in Brussels on September 13th, 2012. The workshop will validate the work of the panels and determine a community strategy for the future.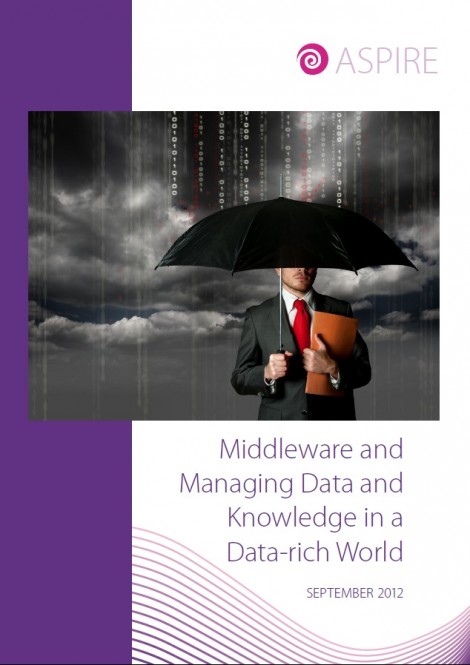 ASPIRE report: Middleware and Managing Data and Knowledge in a Data-rich World
This report explores the important aspects of data handling and storage in the context of future research networks and the associated services.
The study encompasses networking requirements, storage, middleware, data policies, and data origin, each of which is considered from the standpoint of five disciplines: Genomics, High Energy Physics, Digital Cultural Heritage, Radio Astronomy, and Distributed Music Performance.
It has been an interesting exercise to gather experts from a diverse range of disciplines. The panel members are people who work day-to-day with ever-increasing datasets. They already see the new problems that are arising as the world's store of data grows at an ever-increasing rate. Those involved have found it a revelation that so many requirements have common threads, despite the diversity of the disciplines studied. The challenge is to ensure collaboration between originators of data, users, and those who preserve and provide access to the data, and to address these requirements in an efficient manner.
From the specific requirements of each discipline, it has been possible to identify some common requirements for National Research Network (NRENs), GÉANT, and others involved in providing network connectivity:
to collaborate with user communities to ensure the networking requirements associated with the data deluge are well understood. Adequate network services need to be put into place in a timely manner and in an economically viable fashion. Aspects of the speed of provision, throughput, privacy, persistence of connection, and other important parameters need to be addressed;
to define standardised datasets in order to profit from economies of scale, which would follow from the availability of generic, cross-discipline middleware. Standardised datasets, metadata, and middleware and applications for easier data accessibility need to be defined. A common metadata standard that takes into account multi-disciplinary use of data needs to be adopted;
to adopt a globally recognised Authentication and Authorisation Infrastructure (AAI) based on recognized standards for the exchange of assertions and security tokens that can be utilised by all user communities, e-Infrastructure providers, and ICT service providers. Examples include eduroam®, a system dedicated to authenticating network access, and eduGAIN, which is increasingly being used to connect interfederations;
to create common mechanisms and procedures to enable disciplines to certify and authenticate data. This could include automated signing of data before they leave instrument, whether they are large devices such as the LHC or SKA, or smaller devices such as cameras or scanners;
to facilitate collaboration between disciplines in order to create common policies, procedures, and tools to assist in the curation of data and its selection for preservation.
Beside Medicine, Physics and Science, data handling and storage represent big challenges also to cultural heritage and art. In the ASPIRE report, interesting contributions come from dr. Antonella Fresa as for digital cultural heritage (par. 5.2), and from Gill Davies (par. 5.5) as for distributed music performance.
Download the full Report: Middleware and Managing Data and Knowledge in a Data-rich World (PDF, 1,24 Mb)
The other ASPIRE reports available here: http://www.terena.org/activities/aspire/
Further information on the ASPIRE workshop here: http://www.terena.org/activities/aspire/ws2/