The International Exhibition Exchange will take place in Turin on November 7th and 8th 2013. It is the new international marketplace devoted to the world of art, culture, museums and related services.
This event will be many things at a time: a container of ideas, a meeting opportunity, a place for "connecting", as well as a lab for development, co-production and trading of projects linked to exhibitions and cultural events.
The International Exhibition Exchange is a unique and unmissable opportunity to get acquainted with:
the largest international cultural heritage of art, history and culture
the main world cultural institutions
the most innovative exhibitions organizers and curators
professionals and experts in the field
There will be conferences, workshops, one-to-one meetings, cross meetings and exhibition areas: a whole range of events, making these two working days extremely rich in appointments and meeting opportunities for professionals in art and culture.
 It is not a fair
It is not a show
It is not a festival
It is a meeting and trading area: a marketplace.
The Art & Museum International Exhibition Xchange will be the meeting place for key players in the field of art, culture, science, museums and related services.
Here are some of the main targets of the event, divided into macro-categories.
By purchasing the registration fee online and accessing the calendar, it is possible to view the Xchange registered and their respective categories.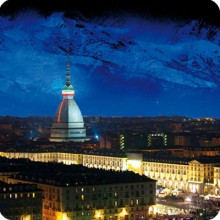 Venue: The International Exhibition Exchange will take place at Turin Lingotto Conference Centre.
The Industry and Culture Foundation picked out Turin as the ideal venue to host the first edition of the Art & Museum International Exhibition Exchange:  third economic pole of the country and seat of prestigious universities, Turin is the only Italian town  having two impressive contemporary art museums, as well as the most active galleries , foundations and organizations engaged in cultural promotion. Because of  its history and vocation Turin plays a leading role in art, history and in Italian culture.
The Piedmont's regional capital has a unique geographical position as strategic crossroads between Italy and Europe. Moreover, it is also one of the main railway and road junctions while its international airport connects it with the main cities in the world.
Turin therefore proves to be the ideal meeting venue allowing organizers, curators and investors to engage in productive exchangeduring the two planned working days. Lingotto Fiere, which was selected in order to optimize attendance, is a strategic  place offering both the charm of a prestigious location and a convenient access for national and international traders.
PRESENTATION and PRESS CONFERENCE
The press conference of the event will be held on Friday, June 28 at 10:30 am in Rome, at the "Pininfarina Hall" (Confindustria, Viale Astronomia 30). The following persons will attend the press conference:
• Alessandro Laterza, Chair of the "Commissione Cultura Confindustria"
• Patrizia Asproni, Chair of the "Fondazione Industria e Cultura"
• Piero Fassino, Major of the city of Turin
• Ivan Lo Bello, Co-Chair of the "Education Confindustria"
• Mirco Cantelli, Marketing Manager Art & Museum International Exhibition Xchange
• Antonio Scuderi, Communication Manager Art & Museum International Exhibition Xchange
More information & registration: http://www.artmuseumex.com/en
www.facebook.com/ArtMuseumExchange
Download the press release (in italian language) PDF