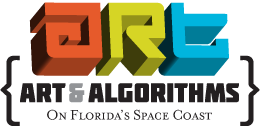 The Art & Algorithms digital arts festival will take place between 4th and 13th October on Florida's Space Coast. As part of the festival a huge range of short films will be screened and the huge variety of countries the producers and directors of these films come from shows that this is truly an international festival. With films made in the Netherlands, China, Peru and New Zealand there a few other festivals that boast such an international mix of artists. This will also be the first screening of new European short films in the US.
Other events held at the festival will include interactive workshops, 3D projections, holograms, digital galleries, talks with digital professionals, holographic and lenticular art exhibitions, and LED streetscapes. If that all sounds a bit confusing you're not alone. Essentially, LED streetscapes will be digital light shows on the streets and 3D projections means there will be large scale 3D digital mapping projected onto buildings.
While other digital festivals concentrate more on using gallery spaces to present digital art, Art & Algorithms demonstrates how digital art can step away from the traditional presentation of art. Similarly to other initiatives to bring 'digital art to the streets', like the Digital Grafiti Festival at Alys Beach, and the Pacific Art League exhibition on the streets earlier this year, there is a new trend in breaking boundaries in the arts world by pushing art spaces out of galleries and into a more public domain. It appears that Florida is the setting for wide innovation in digital art and for changing artistic culture in general, as the Alys Beach annual Digital Graffiti Festival also takes place within this region of the United States. Arts & Algorithms boasts that its setting, Florida's Space Coast, is a place for technological innovation, and this can not be disputed when we take into account the region's determination in hosting digital art events that continue to break traditional art norms.
Official Art & Algorithms website: http://artandalgorithms.com/
(Credit for photos: artandalgorithms.com)