Archeomatica is a multidisciplinary quarterly magazine (journal), printed in Italy since December 2009, devoted to the presentation and the dissemination of advanced methodologies, emerging technologies and techniques for the knowledge, documentation, safeguard, conservation and exploitation of cultural heritage.

The term "Archeomatica" defines automation dedicated to cultural heritage and all associated new technologies. The term arose in 2006, replacing the word geomatics (and its prefix geo), with archeo, for the specific intention of bringing together the science of automation with the protection of cultural heritage as an expression of our past.
The journal aims to publish papers of significant and lasting value written by scientists, conservators and archaeologists involved in this field, and to disseminate information about new methodologies and experimental results. Archeomatica will also emphasize fruitful discussion on the best up-to-date scientific applications and the exchange of ideas and findings related to the cultural heritage sector.
Archeomatica accepts contributions in Italian and guest languages (English, French and Spanish) from scientists, conservators, and professionals engaged in the application and development of innovative technologies for cultural heritage. Call for papers here: http://archeomatica.it/call-for-papers
The journal is divided in three main sections: Documentazione (survey and documentation), Rivelazioni (analysis, diagnostics and monitoring), Restauro (materials and intervention techniques). Pages are also devoted to news from ICCROM, UNESCO and other important organizations.
In the journal there are also reports on events, training courses and the latest news from field.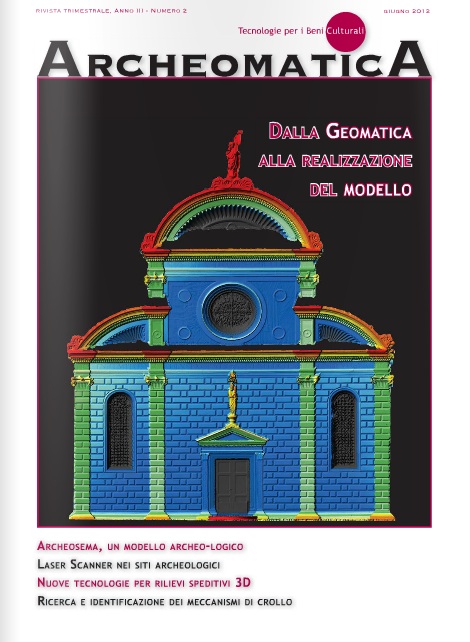 Severally publications concern important case studies: Ebla discovery with geomagnetic technologic, non-invasive techniques for studying the paintings of Caravaggio, and the development of an earthquake-resistant marble base for Bronzes of Riace .
At this moment it is published four times per year and distributed in Italy as well as in an increasing number of foreign countries. It is also available for online access. Archeomatica carries information on products, exhibitions and related events. Its target readers are university and institutional researchers, and professionals working in conservation and museum offices, university libraries and any other organizations and people involved in the field of cultural heritage.
Archeomatica is open access and now it is cataloged in Directory of Open Access Journals (DOAJ). The journal is freely accessible at the following web site: http://www.archeomatica.it. The web site is also a good channel of news and information about events, opportunities and companies in specific fields. The news is disseminated via social networking sites such as Facebook, Twitter and LinkedIn.
http://www.archeomatica.it
http://www.facebook.com/archeomatica
http://www.twitter.com/archeomatica