Einzweidrei is an Association of artists from the Vevey region founded in 2006. The Association's objective is to organise cultural events and it operates as a platform of contemporary creation.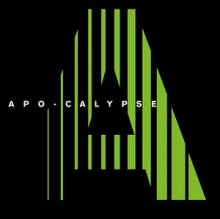 APO-CALYPSE is an ambitious project which will bring together 28 Swiss and international visual artists on the theme of the apocalypse. The exhibition will be bringing together very young artists as well as major figures of contemporary art. Einzweidrei will be exhibiting photography, video, sculpture, ceramics, drawings and installations.
Altogether 21 works will be produced specifically for the project, includingworks by Jonathan Monk, Shilpa Gupta, Gianni Motti, Jeanne Susplugas and Alain Declercq, to mention but a few.
We have chosen to exhibit Dropping the Urn – an iconic work by the Chinese artist Ai Weiwei composed of three silver emulsion photographs. The famous collector Uli Sigg has done us the exceptional favour of lending us this historic piece. Exhibited in the major museums, at APO-CALYPSE it will be presented in a totally new installation, approved by the artist.
Erwin Wurm has himself chosen to exhibit a sculpture from the new series Zorn Skulpturen, produced at the beginning of the year, and which is being shown for the first time in Switzerland.
We will also be presenting Celebration, a video made in 2008 by the artist Hans Op de Beeck, and never before shown in Switzerland.
Yohei Nishimura will present an impressive work dating from 2008, which he will be reinstalling specifically for the project. This will be the first time the work has been shown in Europe. On this occasion we will have the honour of welcoming Yohei Nishimura in Switzerland for a week.
Gianni Motti, Jeanne Susplugas and Sigismond de Vajay will each be exhibiting an existing work, as well as a new piece specifically produced for this exhibition.
The public's interest in the different theories about the end of the world is well known.
We wish to build on this interest to provoke wider discussion, not exclusively focused on the theological or cataclysmic aspects. This project offers a cross-section of viewpoints in thinking about the end and about a possible new world. Our hope is that the works presented and the warm welcome with free admission will draw a wide non-elitist public, and not just lovers of contemporary art. An absolutely unique exhibition area and effective promotion should contribute to this objective.
The exhibition will take place from the 16th November to 21st December 2012 in an exceptional and non-institutional 1,200 m2 space in a former silverware factory located in Clarens, near Montreux, Switzerland, on the shore of Lake Geneva, one hour by train from Geneva.
More informations on: www.apo-calypse.ch
Download the Press Release with full information (PDF, 580 Kb)
Download the Vernissage poster (JPG, 184 Kb)
Einzweidrei website: http://www.einzweidrei.info