Article by Lucia Ruggiero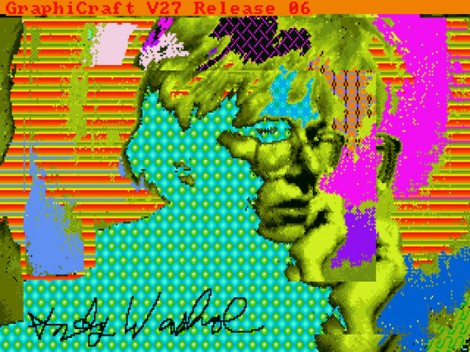 Digital artwork by Andy Warhol has been found on a floppy disk originating from 1985. The pieces found include a digital version of one of his most famous works, the Campbell Soup Can, as well as his version of the Birth of Venus. The Carnegie Mellon University Computer Club in the U.S., a group that includes artists, museum professionals and digital experts, found the art pieces. The Frank-Ratchye studio for Creative Inquiry (FRSCI) at the Carnege Mellon University has stated that the artwork was part of a commission for Commodore during the 1980s, on an Amiga 1000 computer, in order to demonstrate the digital capabilities of the computer in artistic production. While some of the artwork found appears 'primitive' in comparison to contemporary uses of graphic design and computer software in art, at the time, the software used on the Amiga 1000 was seen as state-of-the-art, leading the way in digital imaging. Warhol's signature features on 11 of the digital art pieces, all of which have now been restored by the computer club that found them.
Originally, the files had been stored under unknown formats, making for a very complicated process of recovery, as there was a fear that the content of each file would be damaged. 28 digital images were restored in total, some, such as the Venus, demonstrating a very high capability of 1980s' software in the creation of artwork. Some digital experts have even suggested that Warhol, had he been alive today, would be a leader in the field of digital art.
More information:
http://www.creativereview.co.uk/cr-blog/2014/april/andy-warhol-amiga-art
http://www.itv.com/news/2014-04-26/unseen-andy-warhol-digital-images-from-1985-uncovered/
(Photos: Andy Warhol, Venus, Campbell's and Andy2, 1985, ©The Andy Warhol Foundation for the Visuals Arts, Inc., courtesy of The Andy Warhol Museum)