WORLD PREMIERE
Helix Tree by Bruce Ramus
The Light in Winter directed by Robyn Archer, AO
Federation Square Melbourne, Australia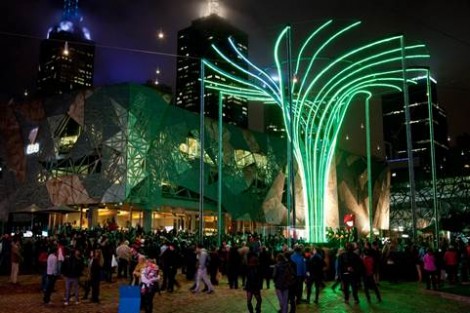 Inspired by the naturally occurring shape of the helix, renowned light artist Bruce Ramus has creating a 3-dimensional sculpture as the centerpiece for Fed Square's annual winter program, The Light in Winter.
From 1 to 30 June, Helix Tree will stand 13 metres high, span 17 metres wide and each of its 21 steel branches will illuminate in response to the volume and pitch of the human voice.
A succession of Melbourne choirs will sing to the Helix Tree each evening in June as part of The Light in Winter's month of free events and activities. Visitors to Fed Square can also "sing up" the Helix Tree creating their own unique and vivid light displays.
Fabricated from 12 tonnes of metal, partly sourced from scraps, steel pipes have been rolled, cut, twisted then re-welded into 40 different radii creating the helical spirals of the sculpture. The 21 steel branches are reinforced by steel ring beams to provide structural strength and will include over 1500 metres of LED neon, which will be reflected in the pond of water at the sculpture's base.
Once lighting the way of rock royalty including U2, David Bowie and R.E.M, Bruce Ramus is now celebrated for setting hearts aglow with his luminous public art projects. His design works have included large-scale projections on the Sydney Opera House; visual content for Melbourne's AAMI Park; design and visual content of the world's largest interactive digital media façade in The Darling Quarter precinct; and lighting and visual content design for the entertainment industry.
Helix Tree will be powered by the green power at Fed Square, which is committed to sustainability practices and is on track to be carbon neutral for gas and electricity this year.
Download the "Light in Winter" programme (PDF, 310 Kb)
Bruce Ramus bio (PDF, 4 Mb)