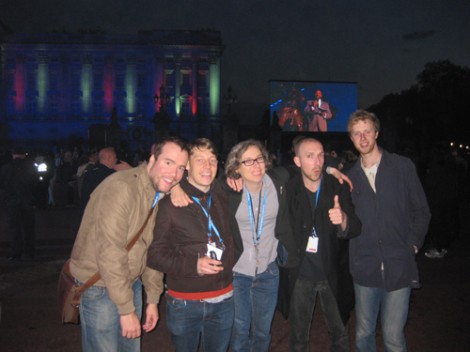 Animation duo Alasdair and Jock had their animation piece "Must Be Love" projected onto enormous screens at Buckingham Palace during celebrations of the Queen's Diamond Jubilee.
The artists met at Edinburgh College of Art where they were both studying in 2000 and began working together in the production of a number of award winning animations.
"We started working together in 2008, and since then have worked in a fairly diverse range of animation techniques — live action puppetry, green screen, hand drawn, stereoscopic 2D and projection mapping— as well as a couple of live action music promos."
More information on Alasdair and Jock's official website
*Alasdair Brotherston & Jock Mooney met whilst studying at Edinburgh College of Art in 2000. Since graduating they have developed successful careers in animation and sculpture before first collaborating on Throw Me To The Rats in 2008. In 2009 they signed to Trunk Animation for commerical representation where they have made a variety of multi award winning projects in animation, live action and illustration.