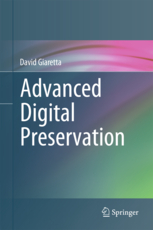 In the last years, there has been a growing aknowledgement of the need of managing the fragility of the digital information which is flooding all aspects of our lives, whether in business, scientific, administrative, imaginative or cultural activities.  Society's growing dependence on the digital for its smooth operation – as it becomes an information society – provides the real urgency for addressing this issue.
Unlike most of the other books and articles already published on the topic of digital preservation, this book focuses not only on documents, images and webpages – objects that are normally rendered to be simply displayed by software to a human viewer – but more in particular on other types of digital objects that may need to be preserved, such as databases, scientific data and software itself – things that are not only rendered.
David Giaretta, Director of the Alliance for Permanent Access,  and his contributors explain why the tools and techniques used for preserving rendered objects are inadequate for all these other types of digital objects, and they provide the concepts, techniques and tools that are needed.
The book is structured in three parts. The first part is on theory, i.e., the concepts and techniques that are essential for preserving digitally encoded information. The second part then shows practice, i.e., the use and validation of these tools and techniques. Finally, the third part concludes by addressing how to judge whether money is being well spent, in terms of effectiveness and cost sharing.
Various examples of digital objects from many sources are used to explain the tools and techniques presented. The presentation style mainly aims at practitioners in libraries, archives and industry who are either directly responsible for preservation or who need to prepare for audits of their archives. Researchers in digital preservation and developers of preservation tools and techniques will also find valuable practical information here. Researchers creating digitally encoded information of all kinds will also need to be aware of these topics so that they can help to ensure that their data is usable and can be valued by others, now and in the future.
To further assist the reader, the book is supported by many hours of videos and presentations from the CASPAR project and by a set of open source software.
The book is edited by Springer. You can purchase the book directly from the Spirnger website.