From our U.S. correspondents James and Maria Huntley.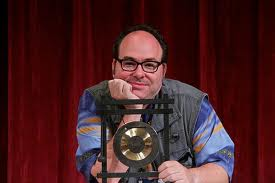 Artist Jared Bendis likes to make light of his self-described title as the "man of many hats," but this innovator has many insights and opinions about the new technologies that are affecting the contemporary art world.  As the Creative New Media Officer at Case Western Reserve University, he works with the latest trends concerning technologies in our "digital" existence on a daily basis.  The following reveals more about the man who enjoys playing with our "perceptual systems."
Could you tell our reading audience more about the main parts of your vision? How does installation meet digital?
Which vision? 🙂 It's weird because in my professional life I wear many hats. My website used to be called "The Many Hats of Jared Bendis" but students would be disappointed to discover it wasn't about my hat collection. I try to stage one major interactive installation work a year, one major cultural photography/videography trip a year, co-own an app development company called Lemming Labs, teach New Media both as an academic course (to undergrads) and as a studio course (to grads), and do Virtual Reality freelance projects (panoramic, stereoscopic photo/video, VR objects) as they come, Oh, and I have my day job as Creative New Media Officer at Case Western Reserve University's Kelvin Smith Library where I teach and consult. My vision? At its simplest my goal is to give the people who interact with my work an 'experience' with the underlying notion that even if the impetus for the experience is 'virtual' the experience itself is 'real'. As a photographer I use a wide angle lens – my photography represents not what you saw but instead what you might remember. I love playing with perception – and I mean that literally – I love playing with the perceptual system – learning how the biological input works and then how the brain interprets those signals and then feeding them appropriately.
Do you find or sense a "resistance" to digital art in the contemporary art world? How do professors in fine arts academia currently view digital art?
Sure! And I'm one of them! If you notice I didn't fully answer your last question. I hate installation art. I know – I know – I'm known for my installation art. It's just installation art is so temporary and it kills me when I see it in museums and such because in the long run I know it isn't archival. As a software designer I always knew what I created would vanish. It's not like a book whose content gets dated but the book is still readable – I have written software that will never run again – it is only a memory. Installations are the same way. I have a friend who jokes that I am really a 'performance artist' since at the some festivals I have literally docented each person through the installation personally. That comforts me because I can grasp the temporal nature of performance art. Last year I had to kill one of my installations – it either needed rebuilt or thrown away – and I didn't have the heart to do it myself and my friend Ed came over and he did such a lovely job turning it into a pile of wood and screws.
The real resistance comes from people not knowing where the lines are drawn. Too often you will walk into a gallery and see the label of a work say 'digital print'. This is absurd! There is no such 'thing' as a digital print. Digital photography is not a 'medium' – its a method. Think about it – if you see a Monet does it say on the label 'Impressionist Painting' – no – it says 'Oil on Canvas'. Don't get me wrong the genre is Impressionism but the 'medium' is oil on canvas. Tell me what I am looking at – is it inkjet, laser, Chromogenic? As an artist I need to know the difference between my medium and my methods. Technology has always been and will always be an underlying factor in all of the visual arts – they are the tools we build with – but the audience needs to know what the object is not just how the object was created.
I think people are becoming more open to the digital world. But the other thing going against digital is the idea that anyone can do it. I hate when I walk into a gallery and someone goes 'I could do that'. I have a great response: 'But you didn't'. When I teach Photoshop I try and teach my students to work with 'intention' and move beyond the 'cool' factor. 'Cool' gets old fast – and just because it is new to you – doesn't mean it is to me or to others in the art world. But intention is real and it always stays real.
How do you see "the digital revolution" impacting contemporary art in the next 5-10 years?
What digital revolution? I'm only partially kidding here. Though I think you said it right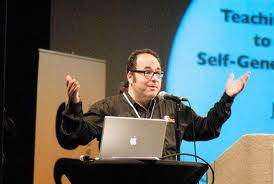 'impacting'. The revolution is not that we live in a rapidly changing and advancing world – but that is in fact starting to impact a very traditional and slow moving one. I think we can learn a lot from the fine art print and photography movements – they faced the same reactions, resistance, and challenges and carved themselves a niche. But we also need to remember that some traditionalists still reject photos and prints and we just have to move beyond them. I think the future of the medium is seeing that artist themselves are taking a more active role in the idea of building their work with an eye on preservation. For example, whenever I do museum work we always keep the underlying data separate from the installation so that it can be carried forward and ported into the future. Right now I am revisiting a lot of the panoramic photography I did 10+ years ago and finding I can get much better results now.
Who are some digital artists that we should all know about (or any flying under the radar)?
So this is where I talk about my friends right? I think Ian Charnas and his work with the Tesla Orchestra is breathtaking. I mean the man wears full body armor and dances with lightning! I've known Ian for years and he's really a genius (and crazy – I did mention he dances with lightning). Choreographer Sarah Morrison (of MorrisonDance) is also one I enjoy as she really embraces the hybrid in all of this – her company once danced with live EEG brainwaves. I know everything I am pointing out is performance based which is just what I think is most exciting right now. In a world where everything is online – as a culture – performances keep us strong and vibrant.

What drew you initially to the medium of digital?
I wasn't the artist in my family. I was the musician. My brother was the artist – he went to art school – and to not fall in his shadow I went a different direction. But I've always been obsessed with toys and gadgets. A few months ago my boss referred to me as a 'Gadgeteer' and I loved it – it even ended up on my business card. As I got older I used my toys differently – and expression apparently is in my blood as a large number of my family are in the visual and creative arts and I just found myself drifting into art. I'm not interested in toys for toys sake though – I always ask people what they would do if they had a particular item – usually because I have it and want to know what to do with it. I had a flatbed scanner back in 1989 and everyone was envious but back in 1989 there wasn't a lot to do with the images once you scanned them! Technology is only as good as you can apply it and I love problem solving and if you give me a hammer I am going to try and find me a nail.
Could you tell us more about your travels (we noticed from your website)?
Ah – my heart of hearts. This is my true joy. I joking tell people "I travel the world so you don't have to". In reality it is "I travel the world so that you want to". I travel the world bringing back cultural content – I photograph castles. It's really an obsession. Since 1999 I have visited and photographed around 400 castles around the world. Its a method I use to learn about people and culture though – I don't JUST visit the castles – I meet people, I eat, I explore, and I immerse myself in another world. Right now I am in the process of editing and posting video I took back in 2003 on a solo trip to Ireland (93 castles in 12 days). Back in 2003 the footage wasn't high enough quality to really do anything feature length with but 10 years later it makes for great 10 minute YouTube episodes – the first 7 are online but there will be 25-30 when I am done.

My recent archeological work in Turkey has been great and this summer I am returning to Turkey for the third time. Life is an adventure and I never really know were I am going next. I am working a project now that could fuse together my installation work with my travels. Last year I built a light proof, sound proof, 11 sided one person room called The Azimuth Cave in which participants were in complete darkness but immersed with 5.1 surround sound audio and played an audio game called 'Treasure of the Wumpus'. This year we are trying to bring The Azimuth Cave back as part of a larger installation where outside the Cave people will see videos of Istanbul (without audio) but inside they will (again in total darkness) experience 5.1 surround sound audio of Istanbul. The idea is that the visual informs the audio and the audio informs the visual but not at the same time and the end result is a cultural experience that is a taste of Istanbul. I have other sensory things lined up for it but we are still in the fund raising stages. But if all goes as planned I will not just shoot photos and video in Turkey but live 5.1 field recorded surround sound audio! I also recently built a quadcopter drone camera which I hope will be ready in time for my return to the archeological site on the mountain top in central Turkey. Wish me luck.
What are your major influences?
The press people from the Ingenuity Festival called me the Virtual Reality Spencer Tunick which I thought was hysterical (my participants stay clothed). In reality a huge influence is Michael Palin – I love what he does culturally. If I could do anything it would be that – traveling around the world and bringing back the experience of other cultures. Think about how small the world has gotten and yet people really aren't taking advantage of that.
My other hero is Eugene Emmanuel Viollet-le-Duc the 19th century architect who restored many of France's castles. He wrote that "To Restore and edifice" means "neither to maintain it, repair it, nor to rebuild it; it means to reestablish it in a finished state, which may in fact never have actually existed in any given time." And to me that is the heart of art – the establishing of an experience that is real (regardless of its foundations) and if I can live up to that potential I've done a good job.
Thank you Jared Bendis for your frank and insightful comments concerning art that relates to "digital meets culture".   We do wish you luck in all your creative endeavors.
Here are links to Jared's websites and blogs: