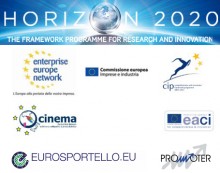 In Italy, a valuable opportunity for professionals and entrepreneurs who want to learn more about next EC programme. In this course, an expert speaker will lecture about the new programme Horizon 2020 with wide overview about the strategies and objectives, and special focus on participation rules, teambuilding tutorials, and concrete examples of successful proposals.
Informazioni in Italiano
Il seminario offre ai partecipanti una panoramica completa sulle strategie e gli scopi di Horizon 2020, programma dell'UE 2014-2020 per la ricerca e l'innovazione.
Il corso è organizzato da

e sarà tenuto a Firenze (6-7 dicembre 2012) dalla Dott.ssa Antonella Fresa, Direttore di Promoter s.r.l.
Per maggiori informazioni clicca qui.
Documenti scaricabili: