A tool for research libraries – find historical books as e-books


When researchers and other readers require literature which is hard to access, is missing from your collections, can be read only on site or is too rare to order via interlibrary loan, you may find the EOD network as a useful alternative.
40 libraries from 12 European countries aim to offer their public domain collections as e-books (mostly single PDF files with full-text search option) on users' request. These libraries, including many university libraries, are organised into an eBooks on Demand (EOD) network.
The fastest way to find already digitised items or books offered for digitisation is to use the EOD search engine.
Currently the search engine gives free access to the full text of nearly 24 000 copyright-free books and some 3.9 million other books offered for digitisation for a moderate fee on the request of users.
The items in 30 languages available via the EOD search engine cover the fields of science, social science, history, medicine, language and literature, law, philosophy, psychology, religion and other subjects.
The complete list of the e-catalogues and repositories of participating libraries is published on the EOD website.
Moreover, approaching Christmas, a very special opportunity is reserved to the end-users: until 15 December 2013 over one million items are offered for digitisation for the price up to 10 euros. See the campaign page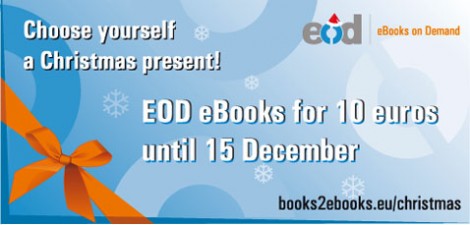 Note for libraries: in case of interest in joining the EOD network, please contact the coordinator Silvia Gstrein, University of Innsbruck, Library, ub-eod@uibk.ac.at
More information:
EOD website
Video tutorial on ordering process
Twitter feed of EOD eBooks
Highlights of EOD eBooks and other news on EOD Facebook pages in English, in German.