A Cloud for All – the European Collaborative Cloud for Cultural Heritage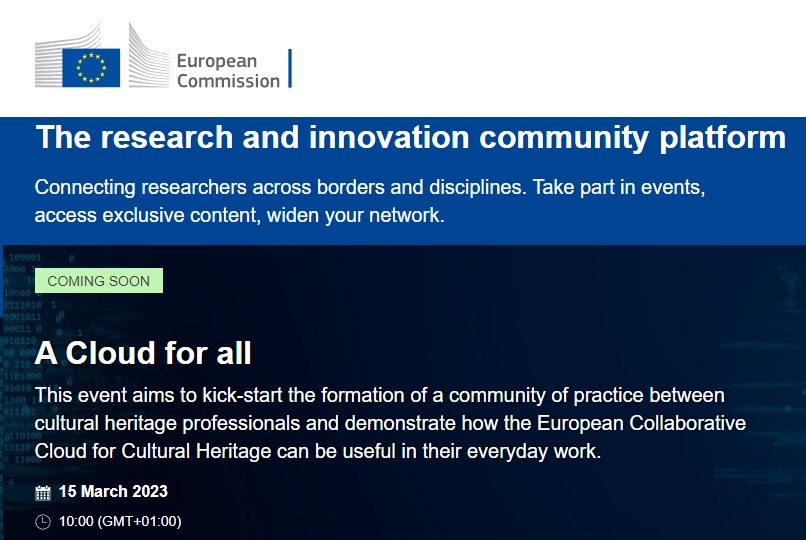 The European Commission - DG Research & Innovation invites all stakeholders in the cltural heritage sector in a virtual event 'A Cloud for all – the European Collaborative Cloud for Cultural Heritage' that will take place on Wednesday 15 March 2023 from 10:00 h to 12:30 h CET.

Mariya Gabriel, EU Commissioner for Innovation, Research, Culture Education and Youth, will open the event.

The goal of this event is to start building a community of practice around the 'European Collaborative Cloud for Cultural Heritage' where peers help each other enter the 'new world' that the digital transition is opening up.

In the first part, the event will demonstrate the tangible benefits of the Cultural Heritage Cloud. In the second part, participants will be able to discuss their views and propose solutions on specific issues, including on capacity building, the opportunities for digital collaboration as well as on commercial opportunities for the sector.

The 'European Collaborative Cloud for Cultural Heritage' is a European Commission's initiative that will help safeguard European cultural treasures and ensure that our rich cultural heritage continues to thrive in the digital age.

The Cultural Heritage Cloud will foster cooperation and co-creation among cultural, creative and technology sectors. Moreover, it will bring tangible benefits in the day-to-day work of all cultural heritage professionals and museums, including the smaller, rural and remote ones.

This event is a direct response to the findings of a stakeholder's survey that took place between September and November 2022, where stakeholders indicated the need for clear information on the benefits of a Cultural Heritage Cloud.

To participate in the event, please register from here.

To find out more about the Cultural Heritage Cloud please consult the European Commission's press release.

Subscribe here to join the Cultural Heritage Cloud community of practice.