The Multimedia Learning Towers were installed in the Beirut National Museum in November: they comprise of a variety of tools, from a software allowing an interactive tour of the Beirut National Museum, to multimedia platforms produced by young people within the framework of the project. There are also games and exhibits that are intended to draw additional visitors to the Beirut National Museum.
The Learning Towers are meant to combine both the educational and entertaining experience, in a way to increase awareness of young generations about their cultural heritage.  Until now over 2.500 young people visited the installation.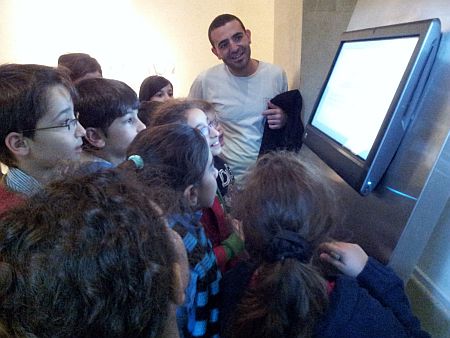 The "Foundation for a strong future" project seeks to support cultural heritage as one aspect of "public wealth" that should be collectively celebrated and protected. The project is managed by Mercy Corps in coordination with the General Directorate of Antiquities and The Association for Protecting Natural Sites and Old Buildings in Lebanon (APSAD).
The aim is to build pride and knowledge of heritage among youth, children, teachers and local organizations. Among other things, activities are meant to transform museums and cultural sites into hubs for education, celebration of cultural heritage and knowledge dissemination.
Read the interview with Dalia Khoury, Mercy Corps project manager, here: http://www.euromedheritage.net/intern.cfm?menuID=9&submenuID=7&idnews=676&zzz=1