Byblos (Greek name of the Phoenician city Gebal, Jubayl or Jbail in its current Arabic name) is a Mediterranean city of Lebanon. Believed to have been occupied first between 8800 and 7000 BC, it is a Unesco World Heritage Site and known to be one of the oldest continuously inhabited cities of the world.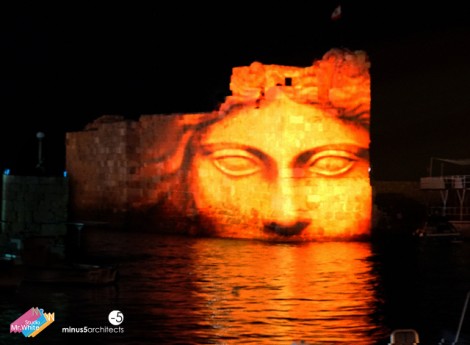 A public, free 3D projection mapping about the history of Jbail held at Byblos' port on 26th and 27th July 2013 during the Byblos International Festival, the biggest musical festival in Lebanon attracting each year thousands of visitors from all over the world. Each historical period of the city was depicted in a creative way, visually capturing the essence of that time. A flow of sequences was carefully designed to take the audience into a series of unexpected visual cliffhangers, keeping their interest peaking throughout the whole 6min show. Coinciding with the Scorpions concerts, the projection ran successfully for two days with overwhelming positive feedback from the audience and the media, which led the event to be extended for a third day. The 3D projection show was organized by I AM strategic project, made possible by the Municipality of Jbail-Byblos and the support of The European Union and realized by Minus5Architects and Studio Mr. White.
The International Augmented Med (I AM) is an international cooperation project involving fourteen partner organisations in seven countries around the Mediterranean Sea. The 14 partners exchange expertise, support each other with technical assistance and develop joint activities to provide innovative services to the tourism sector in each of their countries.  By supporting this key sector, they will assist economic development in the Mediterranean region.
I AM is funded by the 2007-2013 ENPI CBC Mediterranean Sea Basin Programme and aims to establish a self-sustaining cross sector cooperation network (linking experts in IT/multimedia and tourism promotion) which will develop innovative services for the enhancement of natural and cultural heritage sites. It aims therefore to encourage a better geographical and seasonal spread of tourism arrivals and incomes, thanks to the diversification of tourism products and tourism locations.
Byblos' 3D video-mapping project was launched in an open-call for proposals that Minus5Architects and Studio Mr.White won after a transparent selection process, based on criteria such as content creativity, potential for positive impact on tourism and technical innovation.
Minus5 Architects is a young collaborative designed studio operating in the field of architecture and space design. It was founded in 2006 by Lebanese/Romanian architect Daniel Georges; Studio Mr.White is an art driven 3D company founded on one man's vision to promote quality work in the Middle East.
For more information:
http://www.byblosfestival.org/