3D Icons Ireland is online!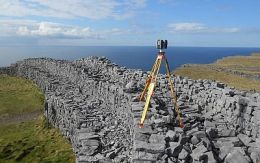 3dicons.ie is a 3D digital collection containing over 130 monuments and buildings from Ireland including decorated high crosses, the island monastery of Skellig Michael, the passage tombs of Knowth and Newgrange and the ceremonial landscape of Tara.
In addition to making content available on line, this data has the potential to be of benefit to such sectors as education, tourism, the creative economy, conservation and monitoring of cultural heritage sites.
The 3D models on this website are the end result of a complex pipeline of processes which transform the primary data captured by the surveyor. The different elements of this pipeline include capture techniques (laser scanning, photogrammetry) modelling, publication activities and creation of metadata.
The core objective of 3Dicons.ie was to make 3D models available online. The solution selected, the Sketchfab webGL viewer, was one of a range of different methodologies

and technical solutions for the optimal delivery and display of rich and complex 3D assets online. The choice was made considering a wide of potential users, from the general public to the researcher.
3dicons.ie, recently launched online, will continually be updated with new objects and functionalities to enhance the visitors' experience.