12th EUROGRAPHICS Workshop on Graphics and Cultural Heritage (GCH)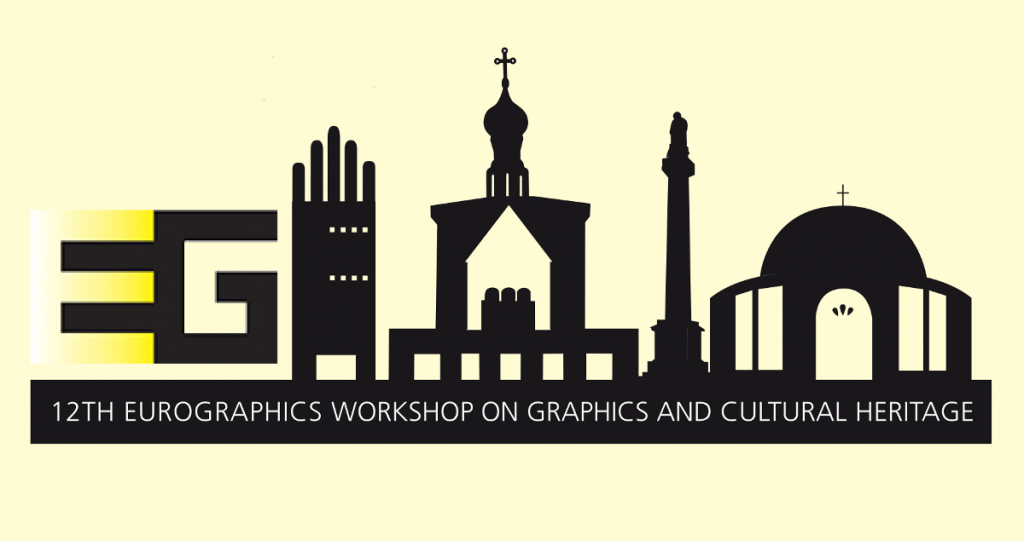 We invite you to contribute to the 12th EUROGRAPHICS Workshop on Graphics and Cultural Heritage (GCH) that will take place for the first time in Darmstadt, Germany.
Archaeologists and Cultural Heritage scientists as well as ICT experts have in the past collaborated to find solutions to optimize all aspects of managing and delivering cultural information to new generations, but still many unsolved problems remain. Among the challenges the community faces are fast and economic, high quality, large scale 2D/3D digitization, certification, classification, annotation, visualization, storage and faithful 2D/3D replication of cultural heritage artefacts, the definition of digitization and preservation strategies for museum collections, the definition of standard data formats for digital models, the development of longterm data storage technologies as well as standard legislation for digital model rights. In continuation to the last years' workshop series, we would like to invite you to participate and to contribute to the European Forum for Information and Communication Technologies (ICT) applied to the Cultural Heritage domain. Following a long tradition, this event focuses on the integration of digital tools and solutions into the practice of Cultural Heritage, Archaeology and Museums.
Where?

GCH 2014 will take place in Darmstadt, the birth place of the last Empress of Russia, Tsarina Alexandra Romanov. Darmstadt is famous for its 'Jugendstil' (art nouveau) buildings. The establishment of the Mathildenhöhe artists colony more than 100 years ago played its part in raising Darmstadt to prominence. Magnificent art nouveau houses give this hill of muses an unmistakable character. Through science, literature, art and architecture, Darmstadt has developed a wholly unique appeal that has earned it much acclaim. Today, Darmstadt boasts a great diversity of science and art, many publishing houses and graphic design studios, as well as the European Space Agency's satellite control centre and internationally acclaimed institutes for ICT, literature, art and music - all of this reflected in Darmstadt's official name as 'City of Science'.
Topics

The 12th EUROGRAPHICS Workshops on Graphics and Cultural Heritage aims to foster an international dialogue between the different fields of expertise and in particular allow ICT experts to have a better understanding of the critical requirements of CH scientists for managing, processing and delivering cultural information to a broader audience. Focus of this year's forum is to present and showcase new developments within the overall process chain, from data acquisition, 3D documentation, analysis and synthesis, semantical modelling, data management, to the point of virtual museums or new forms of interactive presentations and 3D printing solutions. GCH 2014 therefore provides scientists, engineers and CH managers a possibility to discuss new ICT technologies applied to data modelling, reconstruction and processing, digital libraries, virtual museums, interactive environments and applications for CH, ontologies and semantic processing, management and archiving, standards and documentation, as well as its transfer into practice. The result of this interaction will be disseminated through use of innovative digital techniques in research and education for Cultural Heritage and through publications: on-going project results, preliminary ideas and works in progress, and overviews of research in the use of digital technology in the context of Cultural Heritage. We therefore seek original, innovative and previously unpublished contributions in theoretical or applied areas of the digital cultural heritage domain, challenging the state of the art solutions and leveraging new ideas for future developments.
Further details can be found in the CfP (PDF, 340 Kb) !
Paper Submission Deadline: 30th May, 2014
Venue: Darmstadt, Germany
More information: http://diglib.eg.org/GCH2014
email: info-gch2014@eg.org
Twitter: @EGGCH2014
Facebook: https://www.facebook.com/groups/253108928202252/