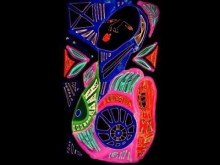 "I'm seeking to create new works that integrate Primitivism with Modern/ New Media."
Breeze Canyon uses traditional and modern art materials to create a fusion of primitive and contemporary art.  Themes vary from the human experience to our environment, society and current events.
​"I'm interested in marks and the similarities they bare across human history. A line drawn in the sand five thousand years ago looks like a line drawn in the sand yesterday".
The Last Goodbye:
"This work, The Last Goodbye, was inspired by the tragic lose of a family member to cancer. It's symbolic of the eternal rhythm of life and the persistent nature of survival and endurance in the face of tragedy. It's an homage to family, love, unity and the continuation of life and the celebration of a life even as it dwindles away."
A collection of Breeze's artworks is on line in his YouTube Channel
Breeze's website: http://coolfirebreeze.flavors.me/